The Best Outdoor Television – Sunbrite Veranda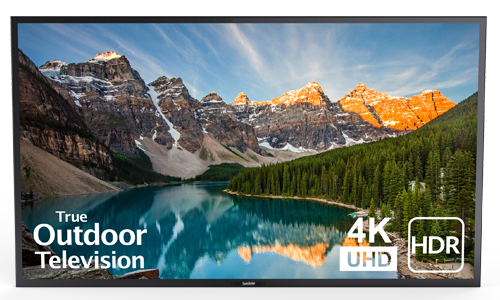 HDR 4K Panel
The best in picture technology with full High Dynamic Range (HDR) support. HDR offers a much wider color gamut than standard TVs, helping to represent colors in a more realistic way. Veranda's true HDR panel will give you the best contrast, and colors will appear more lush and vibrant in full-shade applications.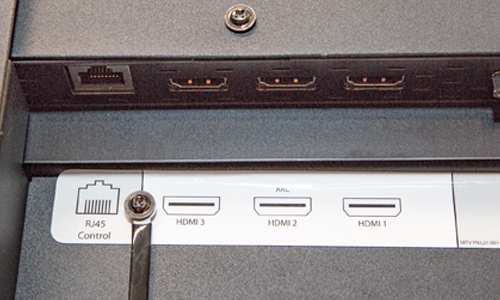 IP Control
SunBrite is among the first manufacturers to offer complete IP control to your television, making it easy to integrate Veranda into the rest of your system.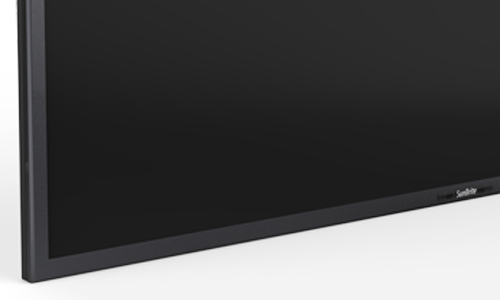 Sleek, Modern Design
A thin-bezel design and sleek appearance means the Veranda Series will add modern elegance to your outdoor living space.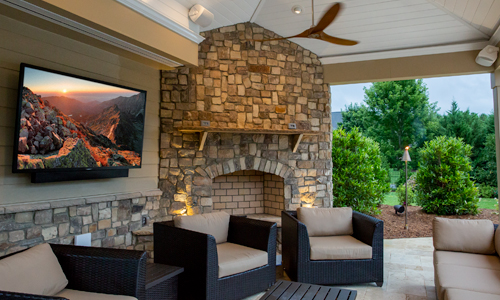 Built for Fully Shaded Areas
Veranda TVs are ideal for full-shade installations like a covered patio or screened-in porch. A bright, 4K HDR UHD screen delivers brighter, more dramatic picture detail to improve the outdoor viewing experience. For installs where the screen will be exposed to harsh direct sunlight, we recommend the Pro Series, and for installs in both shaded or partial-sun applications, the Signature Series provides the best viewing experience, thanks to TruVision™ panel technology.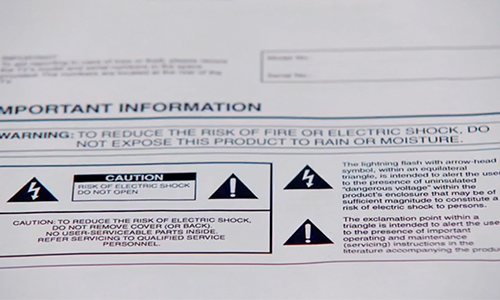 Safety First
Indoor TV manufacturers specifically prohibit outdoor use (just check the manual). Installing a display that is independently certified for safe use outdoors helps protect homeowners from harm and your business from liability.
Engineered for Outdoor Viewing
Indoor TVs are designed for low-light environments, making them extremely dim when viewed outside and resulting in a poor outdoor viewing experience. Veranda series TVs are up to 50% brighter than typical indoor televisions, offering an excellent viewing experience in fully-shaded outdoor areas like screened-in porches and covered patios.
User-Friendly Compatibility
The Veranda series supports HDMI 2.0 and HDCP 2.2 to ensure compatibility with the latest 4K sources and streaming services, and is equipped with 3 HDMI and 2 USB inputs for various connectivity options, as well as HDMI ARC on one input. A rear IR receiver located in the cable compartment keeps the IR emitter hidden and protected, while a weatherproof remote puts the power in your hands. View all inputs.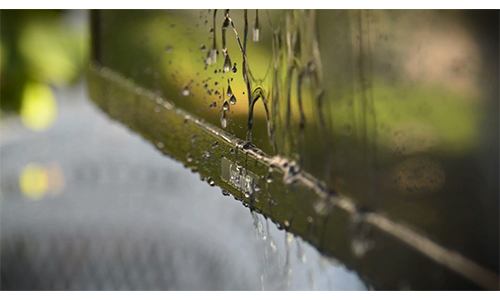 Guards Against the Elements
Made for permanent outdoor installation, the elements have nothing on the durability of this IP55 rated TV. Outdoor safe, weather resistant, and resilient — the powder-coated aluminum exterior protects against rust while shielding the internal components from rain, snow, dust, insects, humidity, and salt air.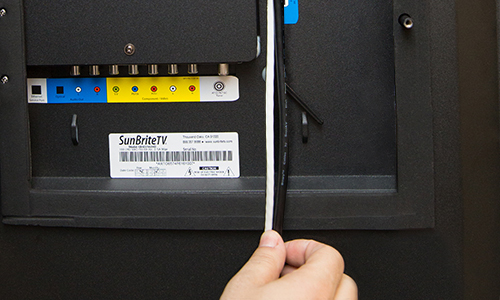 Weatherproof Media Bay
Cable hookups are easy with SunBrite™ TV's innovative weatherproof cable entry system. Thick gaskets seal out moisture, while the media compartment accommodates most streaming devices (55″+), cables, baluns, and extenders. Refer to this chart to determine which devices fit in the compartment.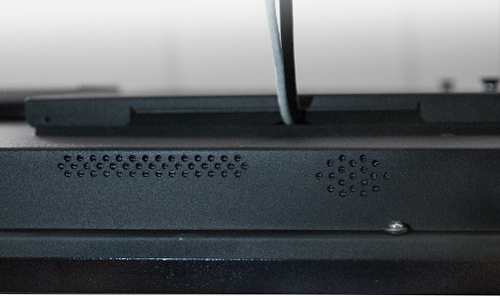 Built-in Sound
The Veranda series comes with built-in 20W down-firing speakers for an all-in-one sound solution, plus an embedded 20W amp for our SunBrite All-Weather Soundbars. If you want to add an external audio system for even greater punch, it's easy.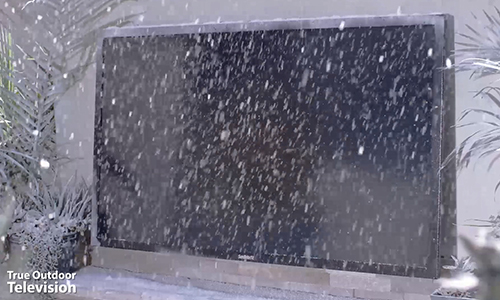 Outdoor Temperature Functionality
A temperature dispersion system allows Veranda series TVs to operate efficiently in low- and high-temperature environments (-24°F up to 104°F). (Storage temperature ranges from -24°F to 140°F)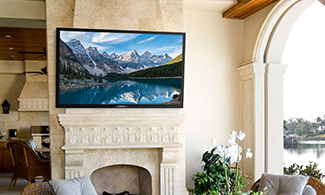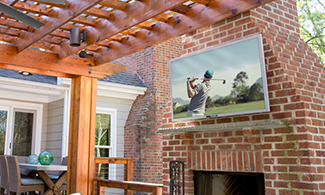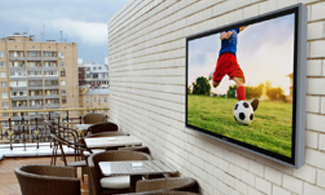 Get the perfect Sunbrite™ TV for your next install with three distinct models to choose from!